Career Communications Workshops
Helping international job seekers express themselves clearly, confidently, and persuasively.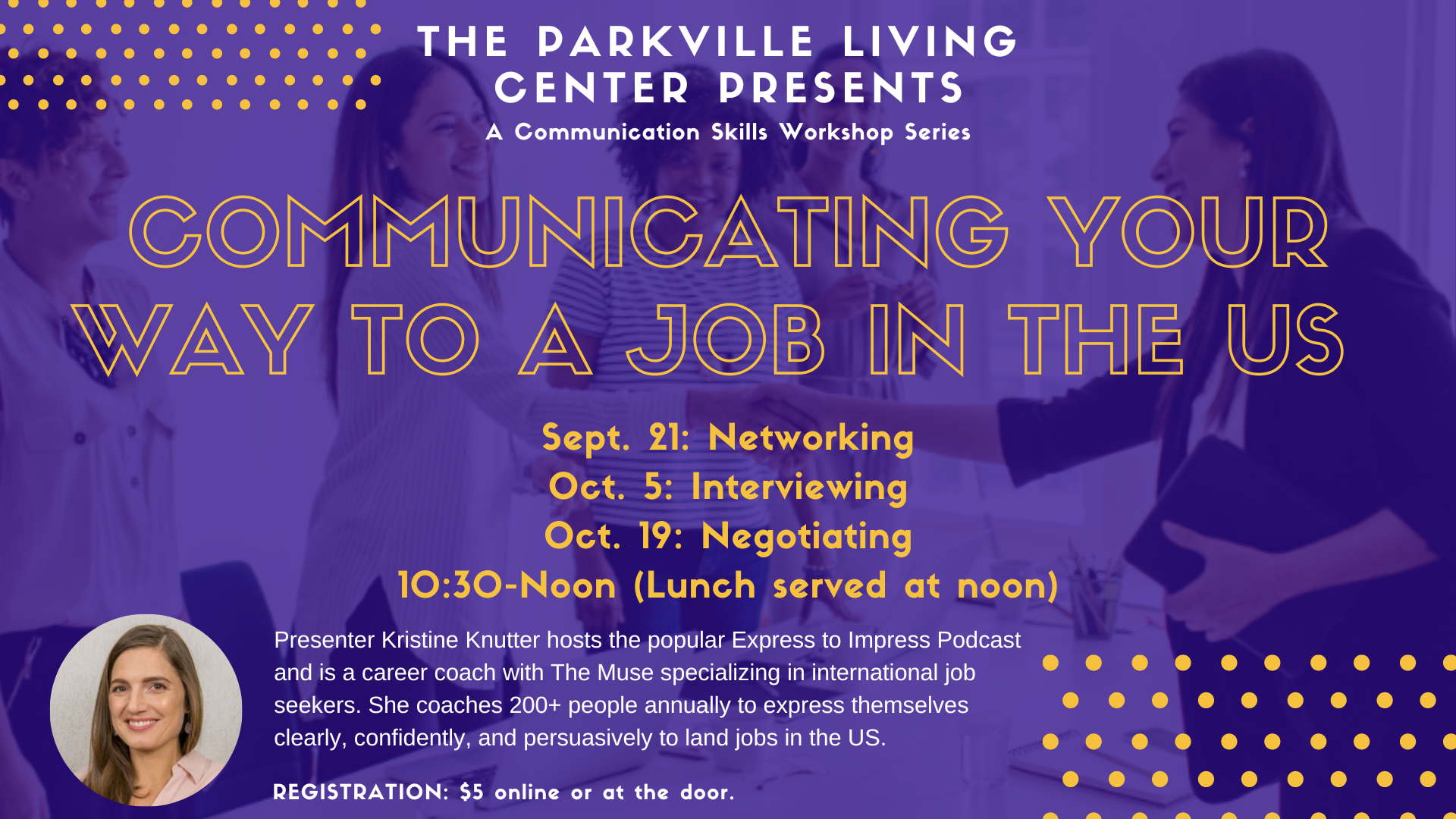 Communicating Your Way to a Job 
Are you feeling uncertain about your career path and in need of guidance? Are you grappling with the difficulties of crafting a standout resume that effectively showcases the impact you've made? Are you curious about the strategies that can enhance your job search and lead to successful opportunities? Do you want to learn about the technologies that can streamline and improve every step of your job search?
The Parkville Living Center offers communication training workshops designed to equip international students and job seekers with the communication skills needed to excel in their job search in America. 
Join us for three interactive in-person sessions that will transform your approach to gaining career clarity, resume writing, and developing a job search strategy.

Workshop Schedule (Click link to register for each day)
February 8: Gaining Career Clarity
March 14: Resume Writing

April 11: Job Search Strategy
Communication Skills Training Details
Communication skills training is the game-changer you need. Attending these workshops will allow you to grow your communication abilities and help you thrive while working with Americans. 
Here's what you can expect to learn in the workshops.
Gaining Career Clarity:
Are you looking to gain insights into your professional journey?
Do you want to discover and align your strengths, interests, and values with potential career opportunities?
Are you seeking guidance on defining your career goals with confidence and clarity?
Click here to register for the Gaining Career Clarity Session
Resume Writing:
Do you want to learn formatting tips and strategies to make your resume stand out to employers?
Are you looking to create a resume that grabs attention and showcases your achievements?
Do you want to write an ATS-approved resume?
Click here to register for the Resume Writing Session
Job Search Strategy:
Do you want to learn many ways you can find out about job openings?
Do you want to explore effective strategies for finding and securing job opportunities?
Are you seeking insights and practical tips to optimize your job search and increase your chances of landing the right opportunity?
Click here to register for the Job Search Strategy Session
Time: All workshops are 10:30am – 12:00pm – Participants are invited to join the community lunch at the PLC beginning at noon, allowing them to meet the community and form new connections.
Location: Parkville Living Center, 819 Main St. Parkville, MO 64152
Presenter Info: Kristine Knutter, host of the popular Express to Impress Podcast and career coach with The Muse, specializes in guiding international job seekers to express themselves clearly, confidently, and persuasively. With her expert guidance, you'll gain the skills to navigate the job market with ease and land your dream job in the US. Kristine holds a Bachelor's Degree in International Business and Spanish from William Jewell College and a Master's Degree in Global and International Studies from the University of Kansas. She is TEFL-Certified and a PARWCC-Certified Employment Interview Professional. 
Registration: The workshop fee is only $5 per session, which can be paid online or in cash at the door. Be sure to register quickly since the first 20 registered participants will receive $5 gift certificates during the workshop! Please note: The true cost of each workshop is $25, and is generously paid for by the Parkville Living Center.
Have questions? Email Kristine at hello@express-to-impress.com.
What's the Communication Style in Your Home Country?
Effective communication skills are essential in today's globalized world, where diverse cultures exhibit distinct communication tendencies. The United States and countries like Australia, Canada, the Netherlands, and Germany embrace a low-context communication culture. We're all about precise, direct, and explicit communication, where messages are straightforward and understood at face value. And repetition is appreciated if it clears things up!
On the other hand, most cultures use high-context communication. They rely on implicit messages, non-verbal cues, and shared cultural context to get their point across. Think East Asian cultures like Japan, China, and Korea, Arab and Middle Eastern cultures, Latin American cultures, and African cultures with strong oral traditions.
Are you Struggling to Master the American Business English Communication Style?
Are you experiencing any of these challenges working with Americans?
Difficulty expressing ideas clearly and concisely.

Misunderstandings and misinterpretations.

Lack of confidence.

Inability to adapt to direct and assertive communication.
Communication challenges can lead to misunderstandings, conflicts, and unnecessary stress, which can hinder your career progress. Additionally, they can diminish your confidence, influence, and impact.
Inclusive Communication
Understanding and adapting to the American communication style is not about considering it superior to other styles; rather, it is a practical approach to effectively communicate and advance in a diverse workplace with American colleagues. By learning and navigating these differences, you can harness the benefits of cultural diversity and enhance your overall work experience, fostering creativity, innovation, productivity, and job satisfaction. To learn more about the US Business culture, check out the Express to Impress Podcast episode: 8 Takeaways About US Business Culture: Erin Meyer's The Culture Map.
Become a Volunteer Today
The Parkville Living Center (PLC) is a new type of community center, one that prioritizes relationship. By signing up you will be able to plug into the needs and resources of our community. Shortly after sign up someone from the PLC will contact you with more information.
Contact Us
Get in Touch. Get Involved.
This dynamic offering depends on you, our community. Reach out, even if you are not sure why, and we can talk about whatever is on your mind.
819 Main St. Parkville, MO 64152